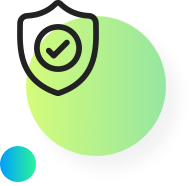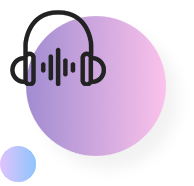 What's Whooshi Sound Tech all about?
We strive to ensure the maximum accuracy of sound transmission on all your devices. We want you to hear music exactly the way it was first captured, whether at a concert or in a studio recording. Imagine you're in a sound engineer's studio. Feel close to your favorite musicians and hear how the music sounds as they perform it during a recording session. Whooshi allows you to recreate this experience through your headphones wherever you go.
Perfect headphones do not exist. All devices have their own sound transmission characteristics and distort the frequency of the sound you hear in one way or another. We designed Whooshi so you can customize your audio experience.
As part of our mission, we've developed three unique technologies: SoundTailoring, SoundHeart, and SoundFeeling.
SoundTailoring (W-Tailoring)
What's the difference between a suit bought off the rack and a suit made by a famous designer? The answer is obvious: the designer suit fits perfectly, hides weaknesses in your form and skilfully focuses on your strengths. Our technology works the same way: Sound Tailoring uses the information from your Sound Personalization Test to adjust the sound to suit both the characteristics of your hearing and the technical parameters of your equipment (smartphone and headphones), while the one-click sound effects adjust the sound specifically for your equipment.
Buying an off-the-rack suit requires a lot less time and effort than going for fittings at a custom tailor. But if you want a custom fit, the results are worth it. Our Sound Personalization Test takes just 5–7 minutes to complete and will give you the most optimized sound adjustment for both your hearing and your gear.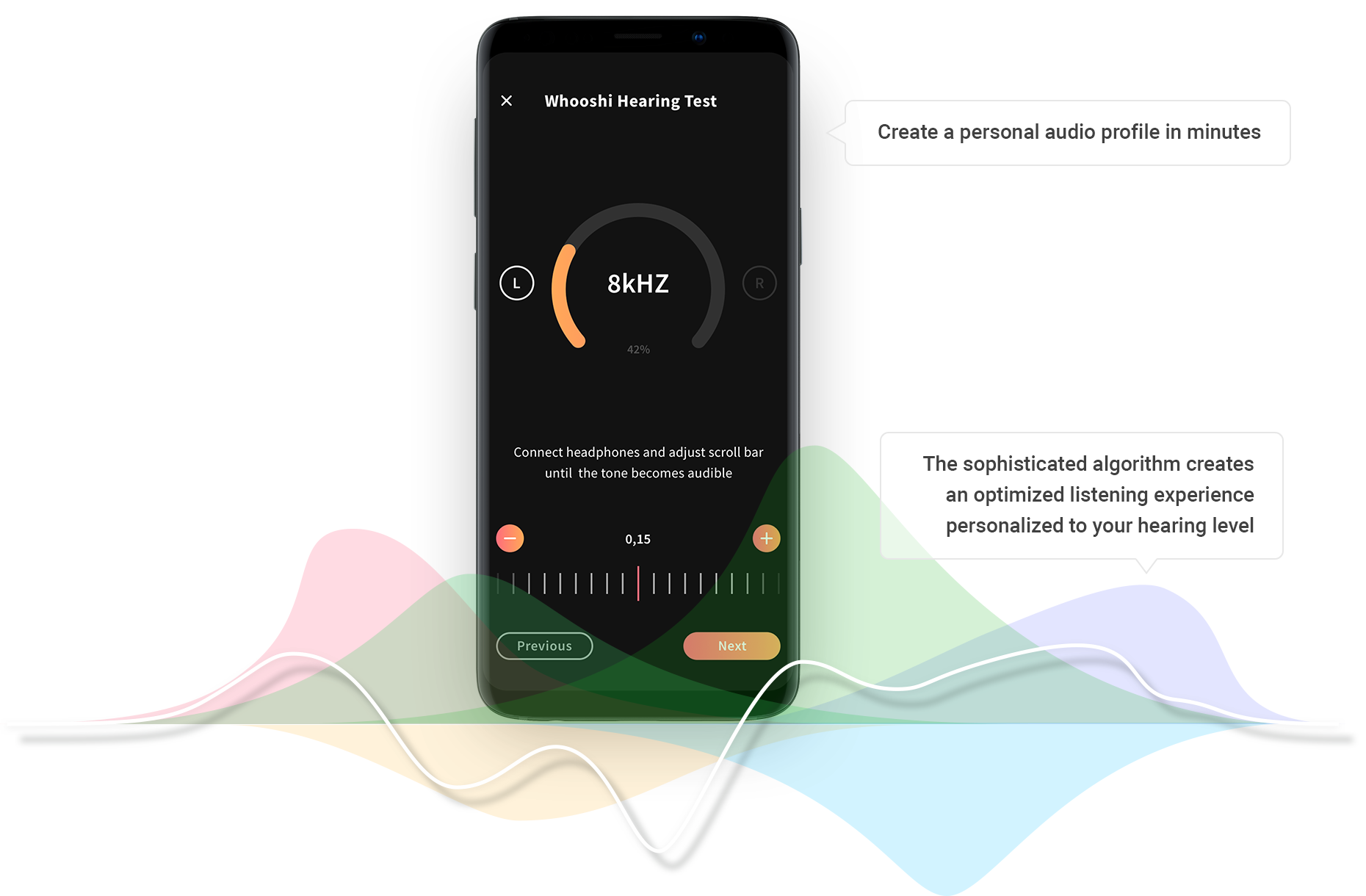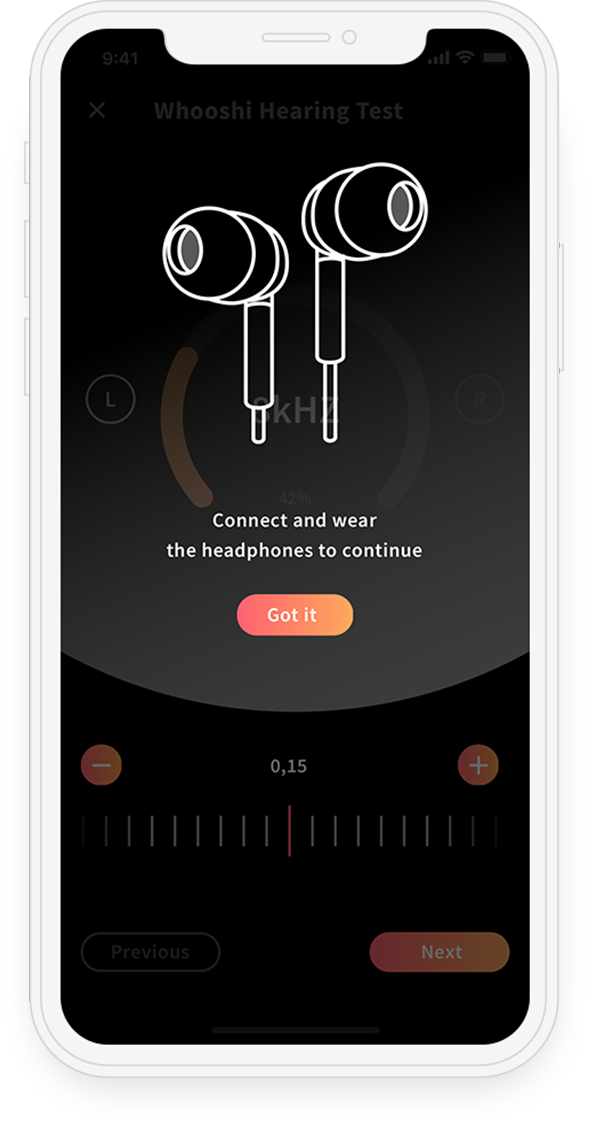 Each type of headphone must pass a separate hearing test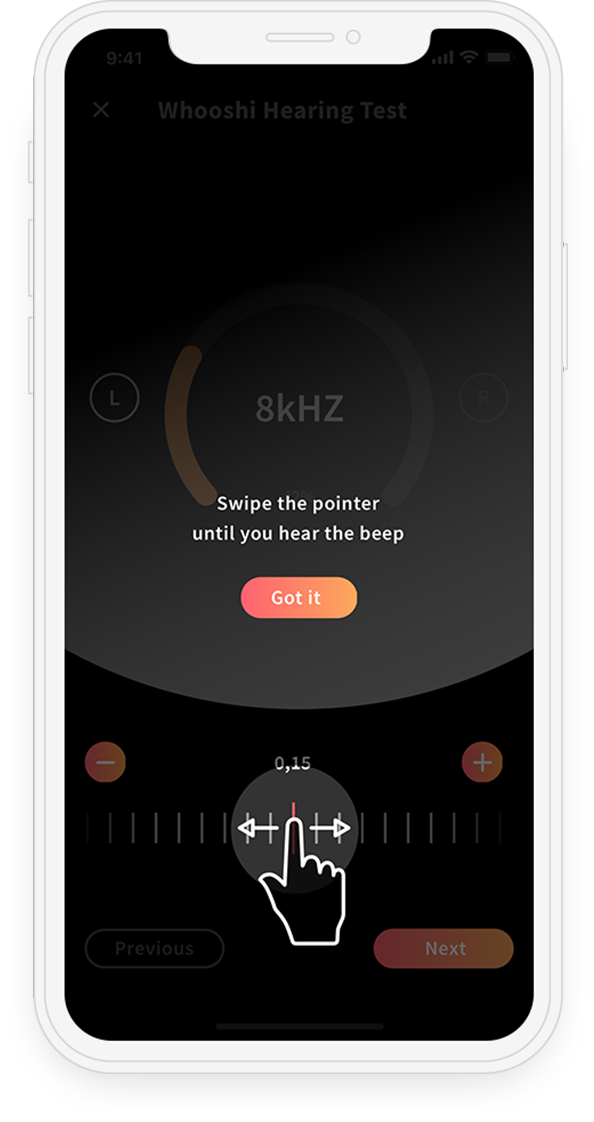 You can type "+" or "-" to adjust the sound more precisely
First pass the test for the left ear and then for the right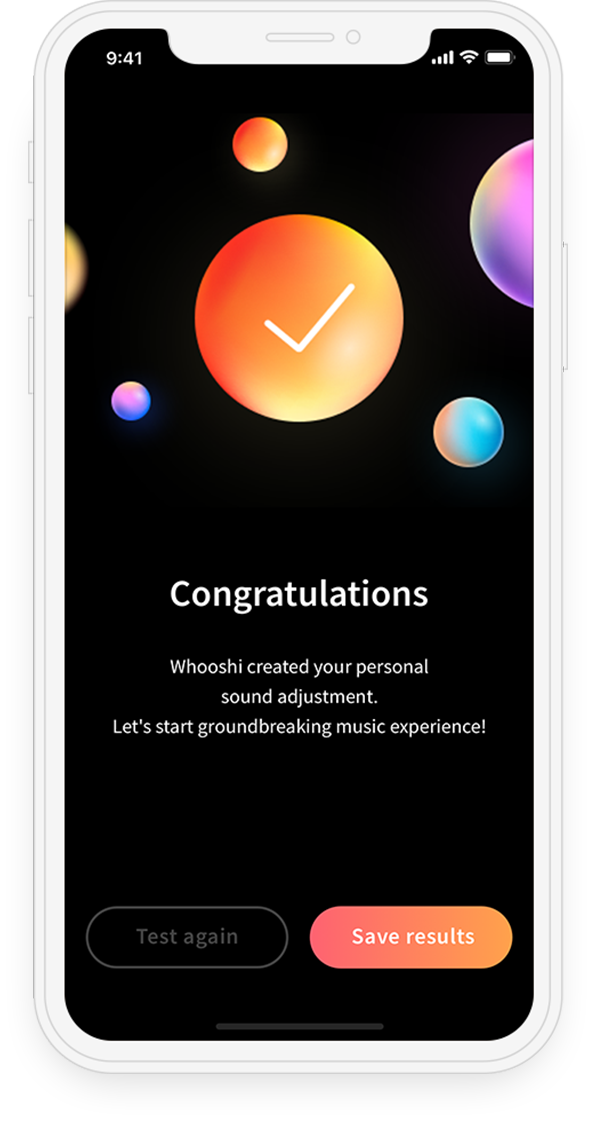 Create and save an unlimited number of personal music profiles

SoundTailoring Effects
Our one-click Sound Tailoring effects allow you to quickly evaluate the Sound Personalization technology without going through the advanced testing and personal sound adjustment. Once you've tried the one-click effects, we think you'll want to take the test to get the full benefit of the Sound Personalization settings.
If you want to try out our technology, simply download the Whooshi Player application, upload your content or use the demos, and turn on the one-click sound effects.
Effect 1 (Ease)

Effect 2 (Avalanche) Adjusting for the characteristics of single-driver in-ear headphones. This option allows you to quickly try out the technology without completing the Sound Personalization Test.

Effect 3 (Cube)

Effect 6 (Warm) 

Effect 9 (Clear)

Effect 10 (Juice)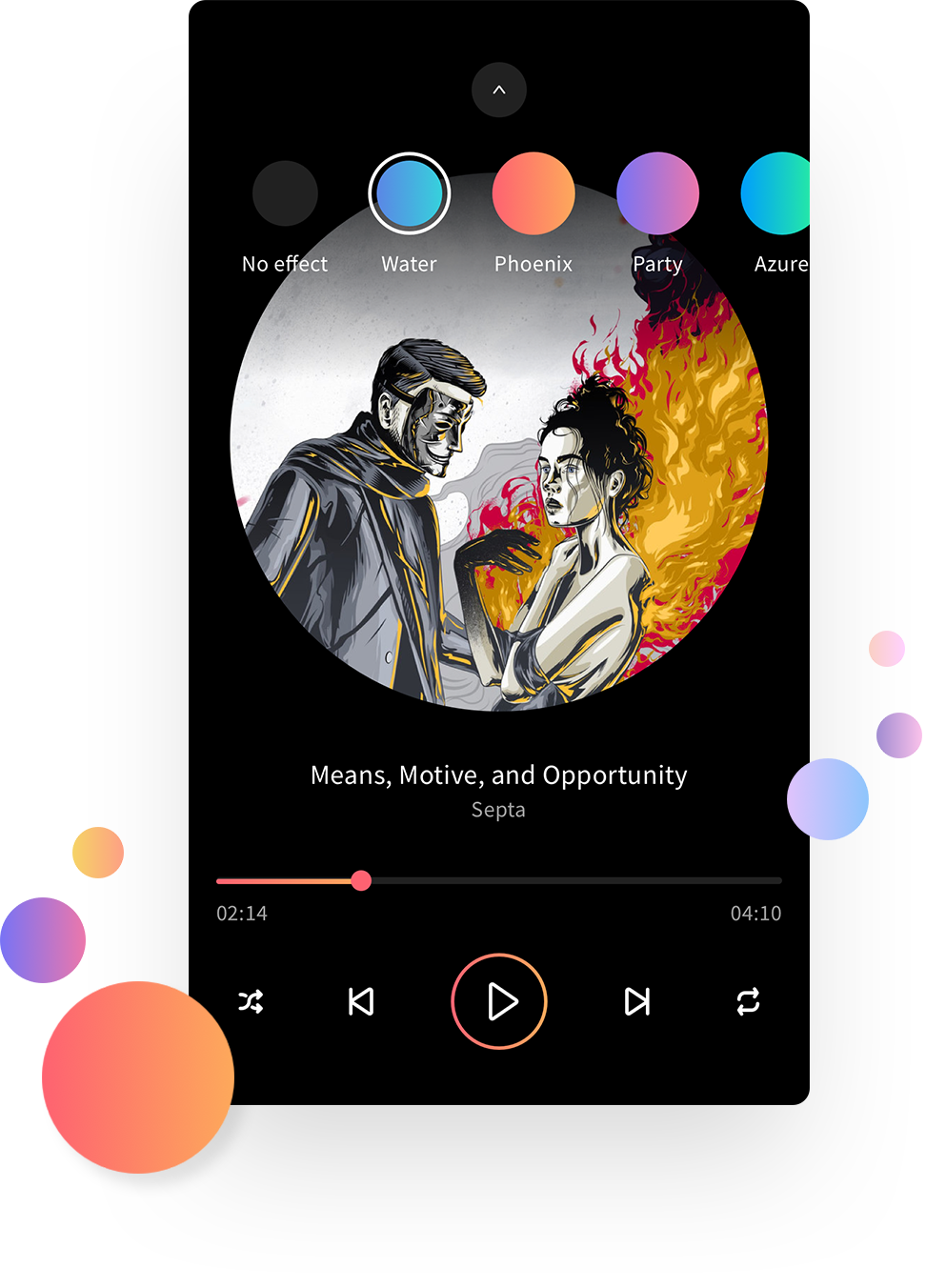 Sound Adjustment according to: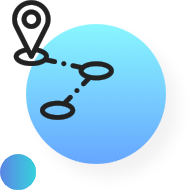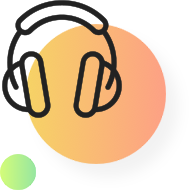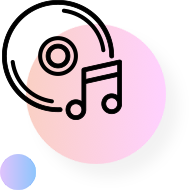 SoundHeart (W-Heart) and SoundFeeling (W-Feeling)
A distinctive feature of this technology is its ability to change the tonal characteristics of sound according to the acoustic dynamics of different locations. Do you like going to stadium concerts, chamber music performances or club music concerts? Then this is the effect for you. With the Whooshi Sound Heart effect, you can immerse yourself in a unique atmosphere wherever you are. An accurately selected mathematical model takes you out of the space limited by your headphones and transports you into other acoustic spaces, like the centre of a stadium.
Effect 4 (Cover) – Club Concert – expands the spatial sound picture, conveying sensations like those felt in a live stadium performance and adding a real concert drive to refined studio tracks.
Sound Feeling (W-Feeling) technology allows you to hear the full spectrum of sounds in your audio, improving their clarity and intelligibility. Recommended for listening to songs with extensive lyrics.
Effect 5 (Cloud)

Effect 7 (Clue)

Effect 8 (Boost)
A complete solution for music lovers
The Whooshi app is an add-on to the Hi-Fi Bluetooth headphones amplifier, which offers the best sound imaginable.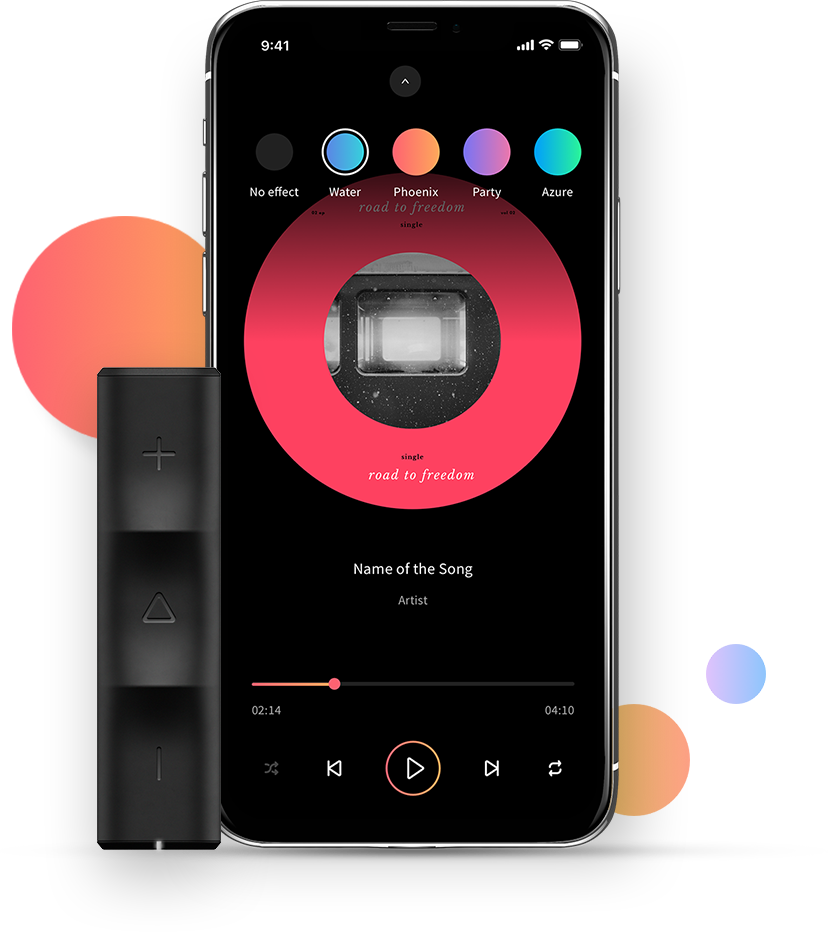 Sign Up for more news from Whooshi
*By entering your e-mail address you accept the Terms & conditions and Privacy policy.